Wildflower FallGrass Camping
Wildflower FallGrass Camping
Wildflower FallGrass Camping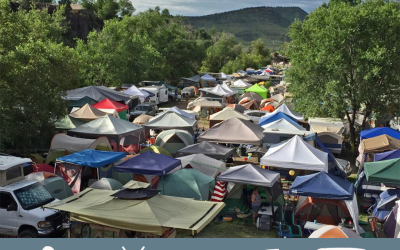 Planet Bluegrass On-Site Campground
The On-Site Campground allows tent camping, as well as vehicles (<18'). RVs are not permitted on-site. There are no hookups or services.
Facilities: Potable water, permanent restrooms and showers
Location: On the Planet Bluegrass Ranch at 500 W Main St. in Lyons, CO (field on the South side of the Festival grounds).

Vibe: Saunter back and forth from the Festival grounds to your campsite throughout the day. With easy access to our bathhouse and showers, lots of shady trees, and the St. Vrain River never more than a few feet away, this campground is a can't miss.
Parking: available on-site.
Festival Access: Unzip your tent, step out, and you're there! Okay, maybe you have to walk a few hundred yards to the gate, but it doesn't get any closer than this.
All persons (ages 13+) must have a wristband for admission into the festival and the campground.
No pets are allowed
No open fires
No Drones
Use of provided recycle and landfill receptacles is required