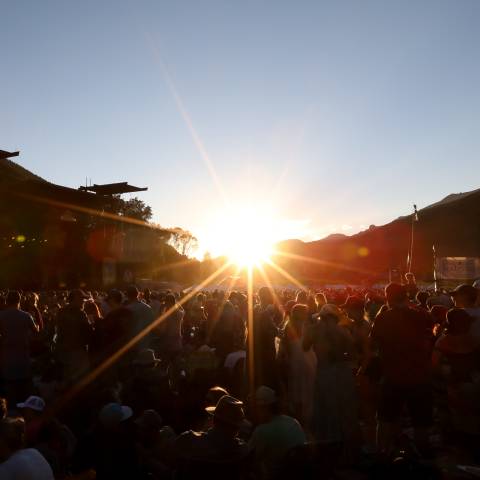 2021 Telluride Bluegrass tickets on sale May 7
Last year, we were stripped down to our most soundless selves. There's no question that everything looks different this year, and we appreciate the love coming from this wonderful community as we navigate a new frontier of Telluride Bluegrass.

You've all asked, and, finally, it's time! Tickets for the 47th annual Telluride Bluegrass Festival will be available on Friday, May 7. Yes, this coming Friday! Now, before we get too ahead of ourselves, we need to dive into the nitty gritty details.

This year, Telluride Bluegrass will be split into two weekends (June 11th-13th, and June 17th-20th). We will be at a reduced capacity of 2,500 people per day, and everyone will be fully socially distanced in corrals of ten. We will not have our traditional sponsor areas, and do not anticipate having any contests or volunteers. There will be food and drink available to purchase from a small assortment of vendors. We are still exploring a Night Grass plan.

Corrals are 12ft x12ft and fit up to ten people. If you would like to join us for both weekends, you will be required to make two separate transactions in order to allow others the opportunity to buy.

This year, with restrictions as they exist, kids are not free, and will count towards your total number of ten. We love our family friendly culture, and plan to return to these policies once capacity restrictions allow.
We have coordinated limited camping in the Town Park and Mary E. Illium Campgrounds. Camping is an add on to the above price, and spaces are very limited. Your corral group must match your camping group.
We have some of our dearest friends joining us this year. Each day of music will consist of four acts, beginning in the 3pm hour and ending at 10:30pm.
Tickets will be available FRIDAY, May 7th at 10am MT through this link. They are live currently, but require a promo code to purchase. This will be deactivated on the morning of our on-sale.
Beginning at 9am MT on Friday, May 7th, you will be able to enter a virtual waiting room where you will be randomly assigned a number in line. Please note that this number is random, and will not be indicative of the time you arrived.
When it's your turn (beginning at 10am), you will be able to add one corral to your cart. Camping, both Town Park and Mary E., will be an optional add-on. We recommend coordinating with your friends beforehand to avoid overlap, and letting your issuing bank know to expect a sizable charge on your card.
All ticket sales are NON REFUNDABLE.
Will Call will be the only delivery option this year. You will be required to show us the credit card used, as well as your photo ID in person in Telluride in order to pick up your wristbands.
We understand it is likely that not all of you will be able to attend this year based on these restrictions. This is the unfortunate reality of Covid events, and we look forward to welcoming you home once it is safe to do so.
The limitations this year have prompted us to explore a new avenue: livestream! More information will be released soon.
Our team will continue the administration of sweet musical elixir, and have more days of music planned than ever before. We look forward to sharing in this harmonious euphoria together.
Sound good? Awesome. Let the Festivation begin!