Elks Park Workshops
Elks Park Workshops
Elks Park Workshops
A long-standing Telluride tradition, workshops are presented during the four days of the Festival. These intimate events bring together unique musical collaborations and more informal performances from festival artists as well as the preliminary rounds for both the Telluride Troubadour and band contests.
These events are presented free to all at Elks Park, located on the south side of Colorado Avenue directly across from the Sheridan Opera House.
Heather & Douglas
11:00am
Troubadour Contest: First Round
Noon
Vinyl Records: Science, Process, and Production (Live disc cutting demo with special guest)
2:00pm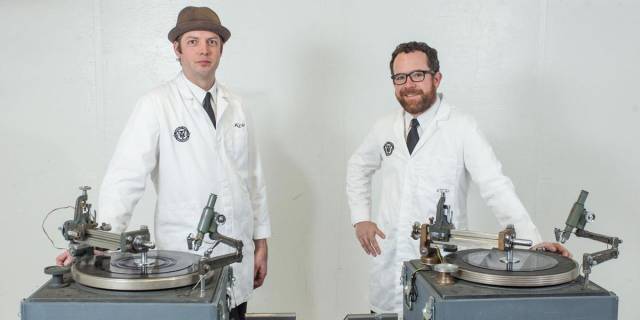 Mobile Vinyl Recorders will demystify the black art and fine science of vinyl records. Learn how the masters are cut and the mass production process works, and how MVR is pushing the artistic and sustainability possibilities of the format by making platable records out of unusual objects like plexiglass, compact discs (that will play on your turntable and your cd player), old laserdiscs, used plastic picnic plates, x-rays, and even chocolate.
After the workshop, they will be operating a "straight to vinyl recording booth" at the Telluride Library from 4-7pm.
Happy Hour with Lake Street Dive
4:30pm
Band Contest: Preliminary Round
10:00am
Chatham County Line Shares the Covers
12:30pm
Todd Sheaffer (of Railroad Earth): Songwriting Tales
1:45pm
Troubadour Contest: Final Round
2:45pm
Wood Belly: Afternoon Delight
3:45pm
Troubadour Contest: Winners Announced
4:45pm
Molly Tuttle & Chris Eldridge: Guitar Duets
5:00pm
Michael Hornick, Bobby Wintringham & Friends: Instrument Building
10:30am
Troubadours: Wes Collins, Emily Scott Robinson & Ira Wolf
Noon
Troubadours: Clara Baker, Jeff Cramer, Connor Garvey & Alexa Wildish
1:15pm
Courtney Hartman Plays "Ready Reckoner"
4:00pm
Edgar & George Meyer: Music for Violin & Bass
11:30am
Troubadours: Cecilia Castleman, Billy Huston & Tim Ostdiek
1:00pm
Charlie Rose & Friends
2:15pm
Ley Line: Travel by Sound
3:30pm
The Elks Park schedule is subject to change. Please check the sign boards at Elks Park for the latest updates.