Family Tent
The Family Tent provides whimsical, musical and educational activities for children and their parents.
Activities for kids include the family area inside the Festival grounds, hiking, horseback riding, and other activities in the town of Telluride and Mountain Village. We are not a daycare facility so we ask that parents sign in and accompany their kids while in this area at all times. The Family Tent is open from noon-5pm on Thursday and 10am to 5pm Friday thru Sunday, and most activities are free.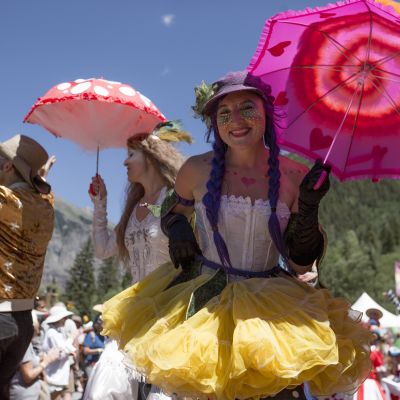 Living Folklore Clowns
Since 1998, Living Folklore has been making the Telluride Bluegrass weekend just as fun for children as it is for adults. The kids area offers a magical refuge for the whole family with kids yoga, storytelling, crafts, interactive performances with live characters, and giant processions. With this year's theme of Alice in Candyland, Living Folklore will be bringing elements from Lewis Carroll's Wonderland to life with giant puppets and a life-size children's board game. The whole weekend builds towards the Sunday parade as we learn juggling, clown-yoga, listen to stories, sing along to live music and more. Come play with us and experience the magic of The Family Tent!
Learn more at: www.livingfolklore.com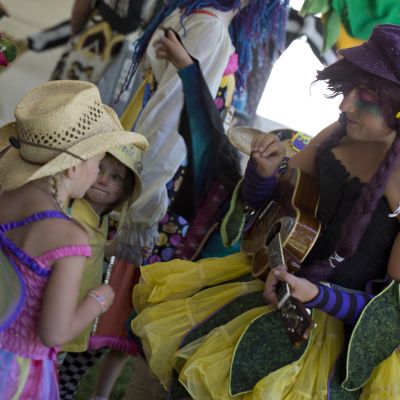 Jugglers' Grove
Juggling Anyone? Join juggling veteran Lauri Watson in the Jugglers' Grove for lessons and free juggling balls — for new and experienced jugglers each day.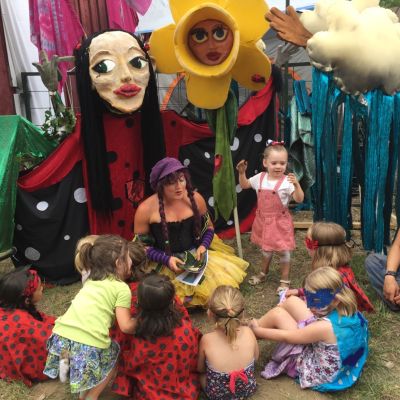 Betty Hoops
On Saturday and Sunday come join Betty Hoops once again for the best craft party of the summer. Kids & adults can decorate & keep their own hoop using fuzzy fabrics, rainbow colored tapes & 3D stickers. Adult hoopers can come & experience the newest & only collapsible hoop on the market. The Gaiam Hoop is a top of the line 6 segment collapsible hoop with a soft foam padding. Betty Hoops will have many for you to play with & will be teaching Hoop Dance Saturday and Sunday!
Learn more at: www.bettyhoops.com.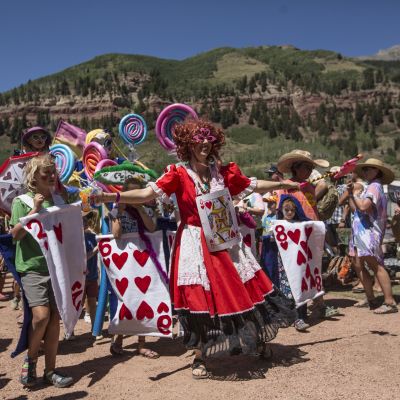 Annual Kids' Parade
Carry a flag, umbrella, or one of the new giant puppets as this beloved Telluride tradition meanders through the festival grounds on Sunday afternoon at 2:45pm.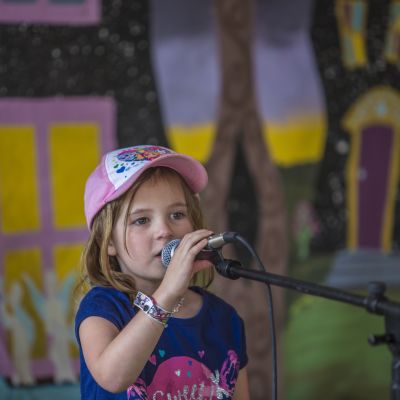 Annual Kids Talent Show
The ever-popular talent show returns on Saturday afternoon at 2:30pm.
2019 Family Tent Schedule
Jugglers' Grove, Hoop Making, Arts & Crafts
Noon-5:00pm
Jugglers' Grove, Hoop Making, Arts & Crafts
10:00am
Grand Invocation by The Aca Pelicans
Noon
Clown Yoga with Gumbo Wobbly & Friends
12:30pm
Zany Puppet Mayhem with Dennis the Red
1:00pm
Puppet Disco Party
1:30pm
Stories and Songs with Gala the Flower Faerie
2:00pm
Jugglers' Grove, Hoop Making, Arts & Crafts
10:00am
Gumbo & Puppets with Funny Bone Logic Games
Noon
Mini Parade with Gala the Flower Faerie
12:30pm
Alice in Candyland Story and Giant Board Game with Piñata
1:00pm
Drama Class & Talent Show Sign-ups
1:45pm
The Aca Pelicans present: The 23rd Annual Telluride Kids Talent Show!
2:00-4:00pm
Jugglers' Grove, Hoop Making, Arts & Crafts
10:00am
Clown Yoga with Gumbo & Puppets
Noon
Puppet Talent Show
12:30pm
Alice in Candyland Story and Giant Board Game with Pinata!
1:00pm
Parade Preparations
2:30pm
23rd Annual Kids Parade (through festival grounds)
3:00pm
Most activities are free, but we ask that parents please accompany their kids at all times in the Family Tent.