Getting Here
Getting Here
Getting Here
Several airlines provide an easy and affordable means of transportation directly into the Telluride Regional Airport - a short five mile drive to the Town of Telluride.
America West from Phoenix - 800-235-9292
Great Lakes Airlines from Denver - 800-554-5111 | www.greatlakesav.com

Mountain Aviation - Telluride Jet Charters - 970-728-4700 | www.mountainaviation.com. Mountain Aviation offers the best selection of charter aircraft in the Rocky Mountain Region. From light twin-engine turboprops, to heavy jets capable of international flights to anywhere in the world, Mountain Aviation has the perfect charter aircraft for your trip to the Telluride Bluegrass Festival. Let Mountain Aviation and our diverse charter fleet handle all of your private jet charter travel needs.
Other Regional Airports
Flights are also available into other regional airports including the Montrose (90 minutes away), Durango, and larger airports in Grand Junction, Denver, and beyond.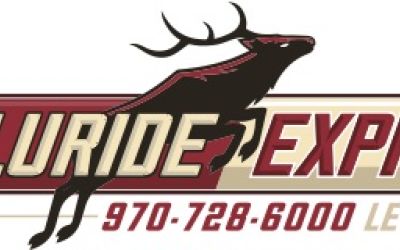 PREFERRED AIRPORT GROUND SERVICE
Telluride Express - 970-728-6000. Safe, reliable service. Group rates available. Make reservations.
Telluride is 7 hours from Denver, 9 hours from Phoenix, and 5 hours from Albuquerque. View a map of Telluride below and the festival-related landmarks.
Please Note: During the 2022 Festival, there will be a major construction on US Highway 50 between Gunnison and Montrose. So anyone taking 285 from the Front Range will see delays with extended road closures on weekdays. Learn more about the project at: www.us50info.com

The area around Telluride contains some of the most spectacular landscapes and panoramas in the world. For the past few years, several inspiring groups have organized rides of varying lengths to Telluride. Some of these rides incorporate gear transport to the festival, parties for cyclists, and other benefits.
Are you organizing your own ride to Telluride? Let us know, we'd love to help connect you with other riders. Email green@bluegrass.com
With our concern for minimizing the environmental footprint of the festival, consider carpooling to Telluride. Make new friends, split the cost, share the driving, and maybe discover some new music. Visit the "Hitching a Ride" board at our Festivarian Forum.
If you are just coming for the day…
Parking is free in the Gondola Parking Garage from Wednesday June 15th through Sunday June 19th of the festival. After your vehicle is parked, you will take the free gondola down to the town of Telluride. The very scenic gondola ride takes about 15 minutes and the Festival is about a five block walk from the gondola station.
Folks who want to go into the town of Telluride and park can get a temporary parking permit from the barricade that is 1/4 mile west of the Town. These permits only allow a maximum of three hours parking in town. After that time period, cars will be ticketed or towed.
If you are staying in a hotel…
It's likely your hotel has parking accommodations. Check with them in advance to see what your options are. If your hotel does not provide parking, you are able to use public parking in Mountain Village for free from Wednesday June 15th through Sunday June 19th of the festival. Learn more about Mountain Village parking.
If you are camping…
You are permitted to drive your vehicle into or near the campground in order to unload. Once you have unloaded your gear, the campground parking staff will direct you to park your vehicle. You must have a permit to use any of the lots designated for campers.
If you are camping and have a vehicle pass…
You may park inside the designated campground.
No. You may not camp or sleep in your vehicle overnight in the parking lots, per local legislation.
I don't have a vehicle pass. Do I have to carry my camping gear?
You may unload your gear at the campground and then move your car to a designated lot.