2020
Songwriter Showcase
Songwriter Showcase
Songwriter Showcase
The Songwriter Showcase is our nationally-recognized singer-songwriter competition, open to anyone who writes and performs original music, and who is not currently signed to a major recording or publishing deal. Contestants are judged on the quality of the song's composition, vocal delivery, and the overall performance.
Past showcase finalists include Erica Wheeler, Don Conoscenti, Karen Pernick, Deb Talan, Dan Sheridan, Dee Carstensen, Mitch Barrett, Sarah Sample, Chuck E. Costa, Liz Longley, Megan Burtt, Caleb Hawley, Robby Hecht, Caroline Spence, Connor Garvey, Ben Shannon, Korby Lenker, Heather Mae, Kira Small and 2019 winner Alexa Wildish.

We are now accepting entries for the 2020 Songwriter Showcase thru May 22, 2020.
The entrance fee is $10 per song. Contestants may submit up to two original songs.
The 2020 songs may be submitted in two ways:

Online: contestants may submit electronically through SonicBids. Online submissions are just $5 thru December 31! After January 1, the entry cost increases to $10/song. Limit 2 songs/person.
Snail mail: send us a CD (no cassette tapes or vinyl, please) with the songs/tracks for consideration clearly specified. Please enclose a check for $10/song payable to Planet Bluegrass. Please ensure your contact information is printed on the CD. Limit 2 songs per person. Please do not send any lead sheets, lyrics, publicity, bios, etc. Recordings will not be returned. Send your CD and entrance fee to:

Planet Bluegrass
PO Box 769
Lyons, CO 80540
Attn: Folks Showcase Contest

Important submission dates:

Entry Deadline: May 22. All submissions must be postmarked or submitted to SonicBids
Notification: July 1. We will notify all finalists and alternates by this date. Watch for the public posting of Showcase finalists around this time.
Finals: Friday, August 7, 10:30am-12:30pm on the Festival Main Stage. Prizes are awarded on the main stage shortly after the Showcase performance.
Showcase Finalists in-the-round. We'll be featuring the Showcase finalists in three different in-the-round sessions on Saturday and Sunday in the Wildflower Pavilion (see the Wildflower schedule for specific times).
2021 Festival Main Stage Set,
Taylor Guitar (model TBA), and $400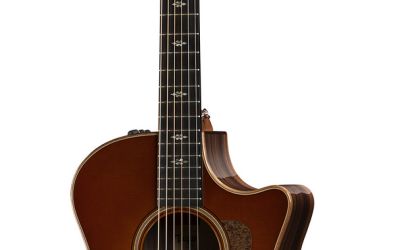 Custom Taylor 714ce WSB (2019 prize)
2020 prize instrument TBA
This vintage-look edition of our Grand Auditorium 714ce sports a Western Sunburst top treatment to complement its warm, saturated tonal personality. The solid Lutz spruce top delivers a powerful sonic output (reminiscent of old-growth Adirondack spruce) that's further bolstered by the addition of our V-Class bracing. Together with solid Indian rosewood back and sides, players can expect the appealing blend of strong lows, sparkling highs, and overtone bloom that has made rosewood a tonewood favorite, with an inspiring new level of musicality thanks to the bracing. The guitar produces surprising volume with a light touch, while heavier strumming yields stunning projection and sustain. The V-Class architecture also controls the top movement in a way that produces a more orderly response, enhancing the in-tuneness of the notes and giving rosewood's rich overtone bloom a wonderfully well-behaved character. Wood-rich aesthetic details include koa binding, a herringbone Douglas fir/maple rosette, bias-cut Douglas fir top trim, and our Reflections fretboard/peghead inlays in abalone. This model includes Taylor ES2 electronics for faithful amplified tone and ships in a deluxe hardshell case.
In addition, all ten of the Showcase Finalists will receive a 3-day pass with on-site camping for the Folks Festival, as well as a spot in one of the Songwriter in-the-round sets in the Wildflower Pavilion on Saturday and Sunday of the Festival.
Sorry, no co-writes. Songwriting entries must be entirely written by the entering songwriter.
We encourage songwriters to submit new/different songs for the Telluride Troubadour and Folks Showcase contests each year. New songs will be given preference over songs which you have previously submitted to one of the Planet Bluegrass songwriting contests.
Contestants cannot be signed to a third-party label or publishing deal. This competition is meant for emerging and independent performing songwriters.
Finalists will play 2 original songs on the Festival main stage.
Recommended time limit is 5 minutes per song. Points will be deducted for significantly exceeding this limit.
Acoustic instruments with pickups are permitted as well as EQ devices but no effects.
Instruments allowed are those that can be carried out to the mics with the performer. A keyboard will be provided if necessary.
No backup musicians allowed. This is a solo competition.
To select the winners amongst the ten finalists, a panel of judges drawn from different facets of the music industry – songwriters, performers, DJs, producers – independently evaluate the performers' songs based on our scoring criteria:

50% Quality of Composition (depth, insight, cleverness)
25% Quality of Vocal Rendering (vocal quality, pitch, tone)
25% Quality of Delivery (instrumental technique, induction of charismatic mania)

The winners will be announced from the main stage following the contest finals.
A huge congratulations to our 2019 Songwriter Showcase winner Alexa Wildish!

Alexa will be performing a full set on the main stage at the 30th Annual Rocky Mountain Folks Festival (August 7-9, 2020)! Congrats to each of these top five finalists as chosen by our judges after their performances on the Folks Festival main stage on August 16:
Congratulations to the other five finalists in the 2019 Songwriter Showcase: