Telluride Bluegrass Festival
Mary E Ilium Campground
Mary E Ilium Campground
Mary E Ilium Campground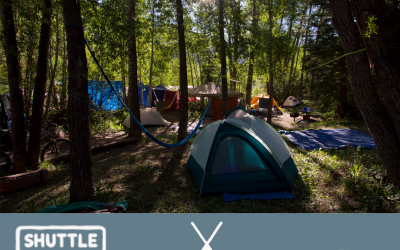 Mary E Ilium Campground
Now Includes 4-Day Festival Pass
The Mary E Ilium Campground is operated in the Grand Mesa, Uncompahgre, and Gunnison National Forests under special use permit from the U.S. Forest Service. The Mary E Campground is operated seasonally by the Forest Service, but Telluride Bluegrass takes it over during the event to camp it "Festival Style"!
Opens: Saturday, June 10, 2023 at 9am
Closes: Monday, June 19, 2023 at noon.
Quiet Hours: 2am to 7am
Facilities: Potable water & porta potties
Location: 7.7 miles from Telluride Town Park on County Road 63L in Ilium.
Vibe: Tucked below the Telluride Valley along the South Fork of the San Miguel River is a forested festival camping experience that brings you closer to nature. Shade is plentiful, but facilities are not. You won't find cell phone service here, but that's not what you're here for anyways! It takes a little longer to get to the Festival grounds, but the natural, backwoods camping experience is all worth it.
Parking: You will be parked as close as possible to the campground depending on what space is available when you arrive. Your car must remain in place once it is parked, and be ready to walk back to camp!
Festival Access: Catch the FREE SHUTTLE into Town from the entrance of the campground. If you're feeling adventurous you can also hike or mountain bike the Galloping Goose Trail which follows an old railroad grade into Town. Make sure you are prepared though, as this is no walk in the park! You'll want to have a capable mountain bike and a helmet if you're riding, and plenty of water and snacks no matter what!
Mary E Ilium Vehicle Camping:
A limited number of vehicle camping passes are available for vehicles less than 22' bumper to bumper
Vehicle passes are sold separately from camping passes
ALL campers (including all handicapped campers) who intend to sleep in their vehicle must have a vehicle pass and a camping pass.
Please keep in mind that vehicle pass holders are asked to leave their vehicle in place in the campground for the duration of their stay.
All persons (ages 13+) must have a wristband for admission into the festival and the campground.
No pets are allowed
No open fires
No Drones
Please avoid hanging from & leaning items against trees, especially aspen saplings.
Use of provided compost, recycle, and landfill receptacles is required