Planet Bluegrass ~ Lyons
Lavern Johnson Park Campground
Lavern Johnson Park Campground
Lavern Johnson Park Campground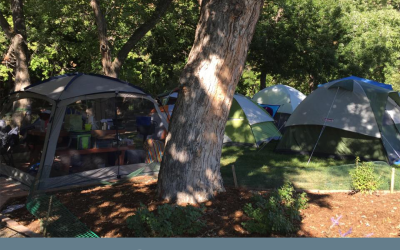 Lavern Johnson Park Campground
Single day or 3-day festival pass required
The campground opens at 9:30AM on the Wednesday before RockyGrass, and Thursday before Folks Fest. This campsite closes at noon on the Monday immediately after the festivals.
Every camper must purchase a camping pass plus a 3-day or single day festival pass. This campground allows vehicles with a vehicle pass (<18'), RVs with an RV pass (>18'), and tent camping. Hookups and services are available for RV spaces only.
Quiet Hours: There is a family camping area with established quiet hours of midnight - 7am (see map below).
Facilities: potable water, permanent bathrooms, coin-operated showers & porta potties
Location: 600 Park Drive, Lyons. 2 blocks from the festival grounds, along the North St. Vrain River

Vibe: Just five minutes down river from Planet Bluegrass, LaVern Johnson Park (formerly known as Meadow Park) is a beautiful park under towering rock cliffs, owned and maintained by the Town of Lyons. Camping is available under shady trees next to the river, as well as open camping in the field. This campground also features several playground areas, showers (additional fee), and river access along the perimeter of the park.

Parking: Parking is available at Planet Bluegrass Farm for $10 cash/weekend. Shuttles run from the Farm Parking to the Campground and the walk is roughly 0.7 miles.
Festival Access: Walk a half mile (past a local brewery, market, and coffee shop!) to the festival grounds, or grab the shuttle at the stop across the street from the entrance.
Vehicles:

If you would like to have your vehicle in your campsite, a limited number of vehicle passes will be sold. Any vehicle in the campground must have a vehicle pass.
Vehicles must be less than 18 feet in length.
ALL campers (including all handicapped campers) who intend to sleep in their vehicle must have a vehicle pass and a camping pass for each camper.
PRO TIP: You can ride an inner tube down the river from the festival grounds back to your campsite!
All persons (ages 13+) must have a wristband for admission into the festival and the campground.
No pets are allowed.
No open fires
No drones
Use of provided compost, recycle, and landfill receptacles is required.