Energy & Emissions
Energy & Emissions
Energy & Emissions
The United States gets 81% of its total energy from oil, coal, and natural gas, all of which are fossil fuels.
The National Academies of Sciences, Engineering & Medicine
Planet Bluegrass depends on energy to power our annual music festivals. Our staff, artists and Festivarians also depend on energy to travel to and from our events. Unfortunately, 81% of the energy in the US is produced by burning fossil fuels which is increasingly harmful to our environment and our health. Since 2003, we have been committed to offsetting our carbon footprint and have invested in carbon offsets and renewable energy credits (REC's) to offset the carbon dioxide (CO2) created by our electricity, diesel and gas consumption.
We are offsetting 100% of the emissions created by the Telluride Bluegrass Festival, including travel to and from Telluride - and we have been doing so since 2007. This is our most significant step to-date towards neutralizing the impacts of our events.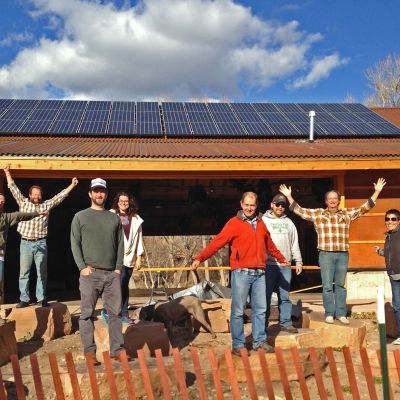 In 2014, we received support from Sunsense Solar to install a 13.2 kWh solar panel array on the roof of the Wildflower Pavilion. Funded in part by contributions from Keen Footwear, this array of 54 SunPower modules is the largest solar project in Lyons to date, and the first Lyons project to utilize net metering to feed excess power back into the grid. The system is capable of preventing over 15 tons of CO2 emissions per year.