2023
Rockygrass Instrument Contests
Rockygrass Instrument Contests
Rockygrass Instrument Contests
The RockyGrass Music Competitions are traditional bluegrass competitions that began at the 1st Annual Rocky Mountain Bluegrass Festival in 1973. Instrumentalists can compete in the following categories: flatpick guitar, mandolin, banjo, dobro, and fiddle.
The preliminary round is held in the Wildflower Pavilion on Friday and the final rounds are held on the RockyGrass main stage on Saturday morning for all to enjoy — with many of the finalists' performances broadcast live on KGNU Boulder-Denver.
Instrument Contest tickets for can be purchased HERE starting at 10am MT January 12th, 2023 (you can buy one when you buy your festival ticket!).

Each entry is $15. Contestants may enter multiple categories.

Only (12) tickets will be sold per instrument.
Since the contests are held inside the festival grounds, all contestants must have either a 3-day pass or single-day tickets for Saturday (the preliminary round) and Sunday (final round). If this is a problem for your band, please call our office at 800-624-2422. We may be able to help.
Preliminary Round - Friday, July 28
Wildflower Pavilion (inside the Festival grounds)
Banjo - 11:30am
Flatpick Guitar - 1:00pm
Mandolin - 2:30pm
Fiddle - 4:00pm
Dobro - 5:30pm
Final Round (Top 3 Contestants) - Saturday, July 29

Festival Main Stage
Banjo - 10:45am
Flatpick Guitar - 10:30am
Mandolin - 10:45am
Fiddle - 11:00am
Dobro - 11:15am
Final times are subject to change
Each competition is limited to 12 registered contestants.
On the day of the preliminary round (Friday, July 28), contestants must check-in with the contest staff in the Wildflower Pavilion at least 1 hour before their contest is scheduled to begin.
Time limit is 3 minutes per song. The judges will mark you down if selections significantly exceed the time limit.
Contestants plays 2 songs in the preliminary round and 2 songs in the final round if finishing in the top three.
Repeats of preliminary songs are not allowed in the finals.
One backup musician is allowed. No electric instruments or pickups allowed. Performers at the Festival or RockyGrass Academy instructors may not perform as backup musicians.
The contest is judged "in the blind"; i.e. judges will not be in the audience.
Contestants who have previously won a contest may not enter that contest again.
The contestant order will be randomly assigned prior to each round.
In the event of a tie or virtual tie, the judges as a group will be allowed discretion to come to a consensus regarding the winner(s). A virtual tie is defined as total scores within 5 points of each other. Judges may need to confer to ensure fairness and consistency in the rating process.
50% Overall Ability (includes difficulty, expression, material selection, taste, execution)
25% Rhythm
25% Tone
This year's instrument contest showcased another dazzling display of virtuosity in the Wildflower Pavilion and the finals on the main stage. Congrats to all the 2022 finalists:
Banjo
1st place: Liam Purcell (Deep Gap, NC)
2nd place: Hastings Traficanti (Denver, CO)

3rd place: Elijah Donovan (Longmont, CO)
Flatpick Guitar
1st place: Liam Purcell (Deep Gap, NC)
2nd place: Michael Furry (Littleton, CO)
3rd place: Charlie Stevens (Fort Collins, CO)

Mandolin
1st place: Liam Purcell (Deep Gap, NC)
2nd place: Jack Dunlevie (Longmont, CO)
3rd place: David Pailet (Denver, CO)
Fiddle
1st place: Roberta Rast (Dallas, TX)
2nd place: Blake Ritter (Eureka, CA)
3rd place: Andy Reiner (Black Hawk, CO)
Dobro
1st place: Chris Herbst (Boulder, CO)
2nd place:

Dylan Kober

(Denver, CO)
3rd place: Josh Hight (Salt Lake City, UT)
A Special Congratulations to Liam Purcell - 1st Ever 3 Time Instrument Winner!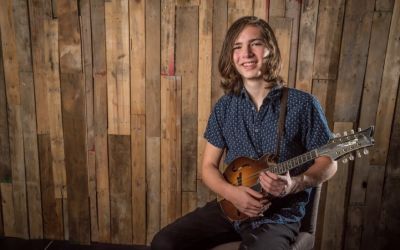 Congratulations to Liam Purcell of Deep Gap, North Carolina!
Liam Purcell of Deep Gap, North Carolina succeeded in winning the hearts of our instrument contest judges three times throughout our 2022 RockyGrass Instrument Contest. Congratulations Liam for taking home the 1st place prize for Banjo, Flatpick Guitar, and Mandolin!
In 2021 Liam entered the RockyGrass Instrument Contest for Banjo, Mandolin, & Fiddle placing 2nd in Banjo and Mandolin and 3rd place for Fiddle.
Way to go Liam!

Read More
Read Less