Reusable Plates
Reusable Plates
Reusable Plates
Reduce. Reuse. Recycle.
What many people don't realize, is this common saying is a hierarchy: reducing our consumption is a higher priority than recycling what has been consumed.
This is why we introduced a reusable plate program to our Lyons festivals in 2016. In the first three years, we saved over 74,000 single-use plates from entering the waste stream.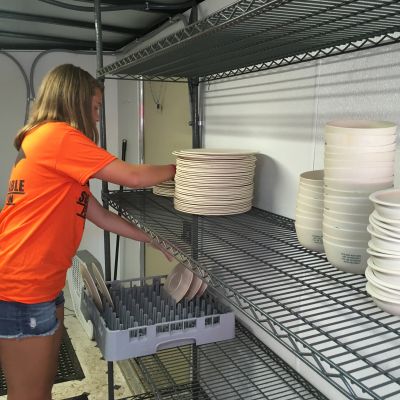 The problem was simple: anything that is designed for limited- or single-use is bad for the environment. We set out to reduce the amount of waste produced at our festivals and prevent the proliferation of single-use items. The solution was not so simple: our local health codes explicitly prohibited temporary events from using anything but single-use items.
So how did we do it?
Researched Our Local Health Codes and Variance Processes
In order to establish our Reusable Plate Program at RockyGrass and Folks Festivals, we were required to submit a Variance Request, to the Boulder County Public Health Department and the Colorado Department of Public Health and Environment, for a variance from Colorado Retail Food Establishment Rules and Regulation 10-106 (Single –Service Articles). The current regulation states: "All temporary retail food establishments shall provide only single-service articles for use by the consumer."

Researched Funding Options and Applied for Grants
There are many ways to fund the cost of a Reusable Plate Program; there is not a one-size-fits-all approach. While we have covered the majority of the cost ourselves, we received financial assistance from Boulder County's Zero Waste Funding Program by implementing a small food vendor fee to cover the cost of replacing plate inventory. Other events, such as Pickathon Festival, implement a deposit system, where an attendee pays a small fee to have their own plate and utensils throughout the event.

To assess inventory needs, we began by surveying food vendors about what types of single-use items they were ordering for each event. Keep in mind that simpler is better: the more plate and bowl variety you plan to offer, the more complicated your overall process will be due to dishwasher capacity, stacking, storage, and tracking.

Established a Washing Process
In the initial year of the program, we partnered with a local restaurant, The Stone Cup, and began washing our reusables in their restaurant dishwashing space after hours. The following year, we constructed a full-service dishwashing trailer, built to meet and exceed health department requirements. We built hookups at our location to feed the trailer with high water pressure, and built a grey water drain to ensure that the trailer could continue to operate at permanent facility standards in a temporary facility setting.

Built a Tribe to Support Us!
Arguably the most important part of starting this landmark program is gaining the support of your event attendees, food vendors, volunteers, and local community. Simplify the process as much as possible and keep the messaging consistent and easy to understand. It is vital that we tell our story in a way that is inspiring, gains support, and ultimately, builds a tribe who is not only willing but excited to join us on the journey as we try something new.

Want to learn more, or are you interested in establishing your own reuse program? Download our PDF handbook that will walk you through the details!