2023
Telluride Band Contest
Telluride Band Contest
Telluride Band Contest
Congratulations to the 2023 Telluride Bluegrass Band Contest winner: The Fretliners from Lyons, CO. The Fretliners will be playing the 2024 Telluride Bluegrass Festival and have won an EP Recording package provided by eTown Hall Studio and Airshow Boulder as well as a free 4-day van rental from Titus Adventure!
The Telluride Band Contest is a nationally-recognized bluegrass contest. Finalists are awarded cash and prizes, as well as critical acclaim, well-deserved recognition, and a spot on the next year's lineup to perform on the festival main stage. Check back soon for information on how to enter the 2024 TBF band contest.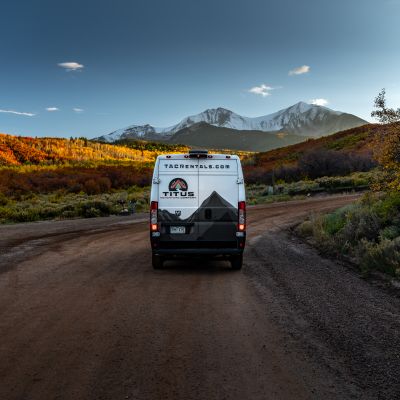 New prize for 2023!
In partnership with Titus Adventure Company
This year, we've partnered with our buddies at Titus Adventure Company to gift the winning band a 4-day van rental. This prize gives folks the opportunity to schedule a mini tour in Colorado without having to worry about lodging accommodations. Talk about a score!
Find out more about the additional first place prizes below.
Titus Adventure Company has been around since 2019 and offers premium overland vehicles to elevate your next camping trip. Their fleet has campervans as well as 4x4 trucks to suit all ability levels and they come loaded with camping gear for a turnkey package. They are experts in exploring Colorado or the West and can help plan custom routes that include GPS pins to hidden campsite gems. Spend less time making lists and more time making memories!
Read More
Read Less
Please note: Contestants are required to use just a single, omni directional stage microphone for the preliminary and final rounds of the band contest. No monitors are provided. Bass players may plug in if they wish.
No more than (12) bands will be registered for the band contest.
Since the final round is held on the main stage on Saturday, each band member must have festival passes for at least Saturday.
Bands may receive a temporary barricade pass for their vehicle to unload their instruments for both the preliminaries on Friday and the finals on Saturday.
Bands may consist of 3-6 members. The music should be "Bluegrass," "Old Time," "Western Swing," or "New Acoustic/Newgrass."
Recommended time limit: (3) minutes per song. The judges mark you down if a selection significantly exceeds (3) minutes.
No electric instruments or pickups allowed, with exception of electric bass and steel guitar (or lap steel). Only one mic will be provided for each band.
Each band plays (3) songs in the preliminaries and (3) songs in the finals. The (3) band selections must be the following types:

A slow vocal song
An instrumental song
A fast vocal song. Tempos are relative.

Songs played in the preliminary round are not allowed to be repeated in the finals.
Bands entering the contest may have no common members
No drum sets or fixed/mounted percussion allowed. (Musicians should be able to stand and move with their instruments. Washboards, shakers, and tambourines are examples of accepted percussion.)
Band winners in previous years are not eligible to enter the Band competitions.
The contestant order will be randomly assigned at the contest site prior to the start of the competition.
Band finalists will receive vouchers from the contest clerk immediately after contests to access the backstage area on Saturday morning. Contestants must have purchased a ticket for Saturday's show and have a wristband to access the backstage area.
Scores are not cumulative from the prelims to the finals. The finals are a new contest; everyone starts on a fresh and equal footing.
Prizes are awarded directly after the final round! Stay nearby if you want to reap the rewards you richly deserve.
Contestants should not talk to the judges or the clerks concerning their scores during or after the contest. The decision of the judges is final. Completed judging forms are not available to the contestants or the public. If you have a formal protest, bring it to the head clerk first. They will forward it to the right person
30% Material Selection (taste, difficulty, authenticity/originality…)
30% Instrumental Performance (includes ability of soloists and overall instrumental blend)
30% Vocal Performance (lead and harmony)
10% Stage Presence
Tips from the Telluride Band Contest Judges
Music competitions are a test of nerve as much as skill. Your ability to perform elegantly under pressure goes with the territory.
Judges may confer to ensure fairness and consistency in the rating process.
In the event of ties or virtual ties, the judges as a group will be allowed discretion to confer to reach a consensus regarding the winner. A virtual tie is defined as total scores within 5 points of each other. If a "tie-breaker" is called, you must play one song that is different from your previous songs. It's a good idea to have a tie-breaker tune ready.
Straying too far from the boundaries of music that is out of the genre of "Old Timey," "Bluegrass," "Western Swing," or "New Acoustic" will affect your score negatively. The judges are not listening for Jazz, Classical, Rock and Fusion, For example, eight bars of a Charlie Parker solo in the middle of "Old Dan Tucker" is inappropriate, but a swingy, improvised Texas-style chorus in "Gray Eagle" is fine. Idiom is important. The judges in the end, decide if your interpretation crosses over the sometimes fuzzy boundary into another world of music.
1st Place
2024 Telluride Bluegrass Main Stage Performance
EP Recording Package (eTown Studio Hall & Airshow Boulder)
4-Day Van Rental from Titus Adventure
Cash
2nd Place: Cash & Prizes TBA
3rd Place: Cash & Prizes TBA
4th Place: Cash & Prizes TBA
EP Recording Package Details
To make sure the winning band has something great-sounding to sell at their 2024 main stage debut, they will receive an EP recording package from two complementary Boulder studios. They'll track and mix at eTown Hall Studio and finish up with mastering at Airshow Boulder.

The winning band will get one day of tracking and mixing with eTown Radio engineer James Tuttle in the eTown Hall studio.
The band's mixes will be mastered by David Glasser at Airshow Mastering's studio in the Boulder foothills.

*An EP is defined as "up to 15 minutes, up to 3 songs." The prize includes up to 4 hours of tracking time and four hours of mix time, and up to 4 hours of mastering plus master parts. Mastering includes a master for CD manufacturing and a set of 24-bit master files for digital distribution or vinyl pressing. This prize may be applied to a larger work, with the band paying the studios' customary rates for additional time or parts. The prize must be used by March 30, 2024.
2023 Band Contest Finalists
Congratulations to the 2023 band contest winners The Fretliners from Lyons, CO along with the other 2023 Telluride Band Contest finalists:
1985 - Blitz Creek
1986 - Loose Ties
1988 - Titan Valley Warheads
1989 - Powder Ridge
1990 - The Chicks
1991 - Meighan Edmonson Mittelmeier Band
1992 - Sugarbeat
1993 - String Fever
1994 - Salt Licks
1995 - Magraw Gap
1996 - Cornbread Sally
1997 - Ryan Shupe & Rubberband
1998 - Floodplain Gang
1999 - Pagosa Hot Strings
2000 - Clear Blue
2001 - Bearfoot Bluegrass
2002 - South Austin Jug Band
2003 - Hit & Run Bluegrass
2004 - Burnett Family Bluegrass Band
2005 - The Badly Bent
2006 - Greensky Bluegrass
2007 - Spring Creek Bluegrass Band
2008 - Blue Canyon Boys
2009 - The Hillbenders
2010 - Nora Jane Struthers & the Bootleggers
2011 - Run Boy Run
2012 - BlueBilly Grit
2013 - Front Country
2014 - Trout Steak Revival
2015 - The Lil Smokies
2016 - Fireball Mail
2017 - Sugar and the Mint
2018 - Wood Belly
2019 - Bowregard
2022 - Full Cord