11th Annual
"Hippie Jerry" Campsite Challenge
"Hippie Jerry" Campsite Challenge
"Hippie Jerry" Campsite Challenge
With nearly 4,000 Festivarian campers sharing the gorgeous mountain environment in Telluride, it is vitally important for each of us to be mindful of our camping footprint. In collaboration with the Leave No Trace Center for Outdoor Ethics and Eco-Products (supplier of free compostable bags for your campground compost), we will be rewarding campsites that excel in creative, sustainable camping.
All entrants are eligible for random daily prizes, while campsites that excel in achieving the highest levels of the Leave No Trace philosophy could win FREE camping and 4-day passes for next year's Festival!
In memory of Jerold "Hippie Jerry" Lunsford, a beloved member of our Festivarian family and proud representative of Camp Run-A-Muck.
Congratulations to the 2018 Telluride Bluegrass "Hippie Jerry" Campsite Challenge Winner: Camp Trailer Smash (from Longmont, CO)! For their efforts, the camp will receive a pair of 4-day passes and camping for the 2019 Telluride Bluegrass Festival.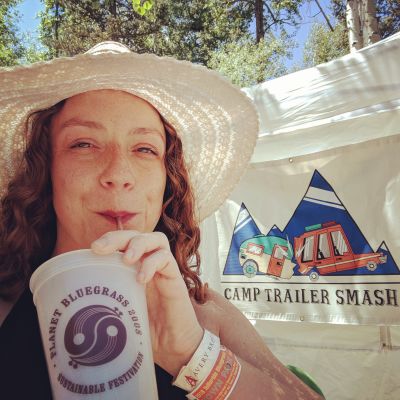 Camp Trailer Smash
Town Park Campground
Camp Trailer Smash was all about being trailer trashy but without the trash! From bringing food in reusable containers, serving it on reusable plates, and coordinating meals with campmates to reduce waste– to repairing as much camping gear as possible (including a 24-year-old tent that lives on with new zippers!), Camp Trailer Smash were experts at reducing and reusing. In past years, they noticed that the majority of their waste was plastic ice bags, so this year, they implemented a simple solution: they collected the ice bags from their camp (and others!) and took them home to recycle locally at CHaRM (the Center for Hard to Recycle Materials in Boulder). Next year, they plan to bring more signage to post at the Camp Host, by the bathrooms, and on the ice truck, so everyone knows to bring their ice bags to Camp Trailer Smash! In addition, they utilized solar lighting and charging and chose to eat vegetarian to reduce their camp's carbon footprint. Way to go, Camp Trailer Smash!
Camp Trailer Smash's advice for fellow Festivarians campers: "As you sort your landfill/recycling/compost, survey what's in your landfill bin and research creative ways to reduce or recycle those items! And… By switching to plant-based meals while you're camping, you can cut your camp's carbon footprint in half! Even switching your breakfast to a veggie scramble or a vegan breakfast burrito makes a huge difference, and you can get tasty, seasonal ingredients from Clark's and the Telluride Farmers' Market!"
The contest is open to all campers in any of the Planet Bluegrass-managed campgrounds. To nominate your own campsite or one of your neighbors:
Complete the 1-page campsite entry form at the Leave No Trace booth inside the festival. (Download a PDF of the entry form below.)


Stop by the Leave No Trace booth each day to view all the campsite entries and vote for your favorites. Each day we select 2 winners (one chosen by our staff, one chosen at random) for daily prizes.


Planet Bluegrass will select the grand prize winner after the campground pack-out is complete on Monday. The grand prize winner will receive camping and 4-day passes for the 2019 Telluride Bluegrass.
We will be judging on three simple criteria:
Cleanliness. Are you repackaging the food you bring? Are you keeping a tidy campsite? Are items secure and not susceptible to wind gusts? Are you safely disposing of cigarette butts?


Sustainability. Are you separating your recyclables, compostables, and then placing them in the correct bins at the campsite waste stations? Are you reusing products (cups, utensils, water bottles, bags) instead of trashing them? Are you using any alternative energy sources to power your campsite? Did you bike or carpool to the festival; are you offsetting carbon emissions using wind credits or carbon offsets? Will you pack out as much as possible when leaving? Did you do anything to reduce your homes' energy while attending the festival?


Creativity. Does your campsite have a theme? Did you decorate your campsite with lights, flags, or banners?Are you utilizing any unique and innovative camping techniques? Are you cooking any creative camping recipes? Are you upcycling any items from home?
Random winners will be chosen each day to win prize packages that include:
One grand prize winner will be selected after the campground pack-out on Monday. This grand prize winner will receive a pair of FREE 4-day passes and camping (in the campground of your choice) for the 2020 Festival!
Some Tips from Leave No Trace
Before you arrive, repackage food into reusable containers. This will limit how much waste you bring to the fest and keep your camp that much cleaner.


Re-use is the name of the game. Bring re-usable cups, plates, napkins, etc. This will reduce the amount of trash you generate.


Good campsites are found, not made. Bring folding tables, chairs, or other amenities to make a comfortable camp. Remember to take everything you brought with you, and leave the area better than you found it.


Establish a clean and green camping community. Work together with other nearby campers to share your resources and strive to Leave No Trace in a fun and festive manner.


Secure your food. Human food is unhealthy for wildlife. Protect the locals and your food by storing all your food, trash, and compost securely in your camp.
Share your thoughts about the contest, or even a little pre-contest "bet you can't top our solar-powered strobing bluegrass baconizer" smack, over at the Festivarian Forum.
Leave No Trace Center for Outdoor Ethics is an educational, nonprofit organization dedicated to the responsible enjoyment and active stewardship of the outdoors by all people, worldwide. Visit at www.LNT.org or call 1-800-332-4100