Free, filtered
Water
Water
Water
We've all heard the statistics: American consumers are drinking more bottled water every year and spending more money doing it because they think it's safer. In reality, most bottled water is no cleaner, safer or healthier than tap water.
Serious issues also arise around equity, public health and environmental justice. Issues like taking water from communities that depend on it, polluting the environment by producing plastics, contributing to global warming by transporting bottled water over great distances, and irresponsibly disposing of billions of empty bottles.
Since 2008, Planet Bluegrass has been providing an alternative to bottled water as usual by offering free filtered water at the festival to help encourage our festival community to kick the bottled water habit. Look for the water booth in the back northwest corner of the festival grounds.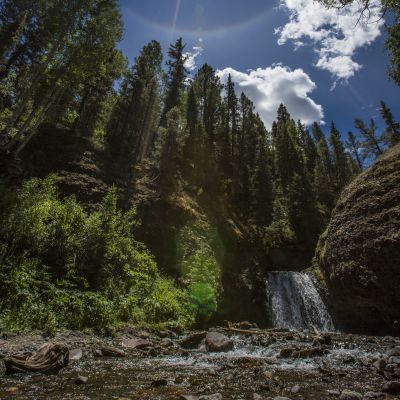 The town of Telluride's water comes directly from two sources: one that begins above treeline high up in the Mill Creek Basin north of town, where it is collected out of Mill Creek into a small settling pond at 9,600 feet on a ridge just north of the Shell Station on the valley floor. The other source begins at 11,600 feet at the top of Coronet Creek, which feeds the Still Well reservoir, located at 9,500 feet near the Jud Wiebe Trail just off of Tomboy Road. From these two tributaries, it's a short journey to the treatment plant just west of town, where it is treated and then stored in two 250,000 gallon tanks off of Tomboy Road.
Telluride's water is so close to the source that it is very pristine and tastes spectacular.
Telluride's water treatment plant superintendent, Bill Goldsworthy
Though both sources require chlorine treatment by federal law, at the festival the chlorine will be filtered out along with other particles to assure that the tap tastes better than the bottle.

All you need to enjoy it is a safe reusable container. Food and Water Watch recommends either stainless steel or lined aluminum bottles to avoid chemicals leaching from plastics.
We've also given our festival artists and their crews complimentary Klean Kanteen stainless steel containers to use during the festival and hopefully reuse again and again. We anticipate these reusable containers saving 1,560 bottles over the course of the festival alone. A limited number of these stainless steel containers will also be available at the Country Store.