Planet Bluegrass
Shady Grove Campground
Shady Grove Campground
Shady Grove Campground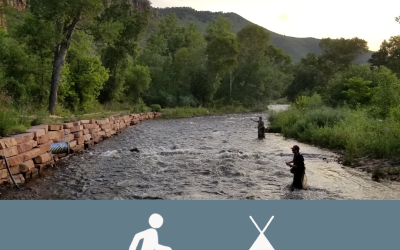 Shady Grove Campground
Single day pass or 3-day festival pass required
The Shady Grove Campground allows tent camping only. There are no hookups or services available.
Every camper must purchase a camping pass plus a 3-day or single day festival pass.
This campground opens at 9am on Thursday, immediately before the festival, and closes at noon on Monday, immediately after the festival.
There is no special load in procedure or timing- please do NOT arrive early and do NOT stop or park along Hwy 36.
There are no established quiet hours in this campground.
Location: 19680 N. St Vrain Drive, Lyons. Along the North St. Vrain River, adjacent to the festival grounds, between the N. St Vrain River and Apple Valley Road.
Vibe: The newest addition to camping on Planet Bluegrass, this campground is nestled between Apple Valley Road and the North Saint Vrain River. With plentiful shade, expansive river access, and no vehicles allowed, this campground is the perfect space to kick back, play a tune, and be one with nature.
Parking: There is no vehicle access to this campground! All vehicles will park at the main Farm parking area (for a fee) and you must walk across the bridge into the campground. Parking is available in the main Farm Parking lot adjacent to the camping area for $10 cash/weekend. It doesn't get easier than that!
Festival Access: Walk along the river for about 1,500ft to the festival grounds!
Facilities: Potable water & porta potties available
Read More
Read Less
This is a very unique campground, and as a result, there are a few unique rules to keep in mind before you decide if it is the right place to stay:
#1 – There is no vehicle access from Apple Valley Road. PLEASE respect our neighbors and don't drive down Apple Valley Road or try to drop off equipment in the campground from there.

#2 – There are no vehicles allowed in the campground at any time – not even for pickup or drop off. Don't fret! Your car will be parked just across the river at the Farm parking lot, with easy access to carry your stuff to your site.
#3 - There are sensitive wetlands on this property! We will have them fenced off, and please respect the boundary to help us protect this resource.
#4 – Porta Potties will be the only restrooms available. The closest showers will be in the Bathhouse on the Main Festival Grounds.
General rules:
All persons (ages 13+) must have a wristband for admission into the festival and the campground.
No pets are allowed.
No open fires
No drones
Use of provided compost, recycle, and landfill receptacles is required.